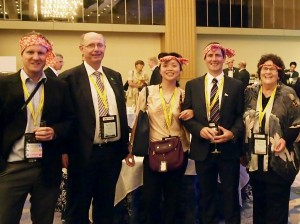 In June this year, Martin Leak, Philippa Walker and Steve Griffith attended the 20th Intelligent Transport Systems (ITS) Congress, in Tokyo, and were impressed by the progress they saw in electrified vehicles and information and communication technologies (ICT).
Starting with safety and traffic management as basic concerns, ITS is reaching out to three new domains: energy management, personalized mobility services navigated by big data, and resilient transport systems.
Regardless of mode of transport, all societies need to look at introducing greater numbers of lower-emission forms of mobility. There are more and more electrified vehicles being launched onto the market (including EV, HEV, pHEV and FCV) and these require closer information exchange via Information Communication Technology (ICT) between vehicles and infrastructure.
This new ICT need brings various new services and businesses into reality as it requires big data deployment in the form of collecting information from and delivering to, mobile devices via information networks. Some services are already in the market and this is an area with high potential for entry by business newcomers. Various institutional approaches and cross-organizational cooperation will be necessary to ensure a liveable society with enhanced mobility on a global scale in the future. Issues include regulation and enforcement, funding and costs/benefits, security and privacy, standardisation and architecture as well as professional education and training.