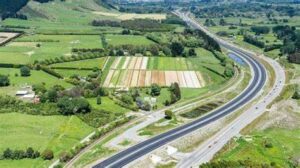 For many years now, Resolve Group's Jamie MacDuff has been travelling up and down from Wellington to Otaki every Monday and Tuesday as part of the client's delivery team for this $445M Waka Kotahi project. He finally got to drive over the finished road in January 2023, a few weeks after it opened to the public. "After so many years of seeing this as a construction project, it was an emotional and cathartic experience to drive it as an operating expressway. It's been worth the wait."
While Resolve Group had some early involvement in the procurement of this four-lane, 13-kilometre expressway, Jamie has been part of the client team since November of 2017. He has overseen delivery under a design/build contract (which was awarded to Fletcher Construction Limited) first as acting project manager for Waka Kotahi and later as a member of the Waka Kotahi delivery team.
In these roles, he has liaised with Fletcher Construction and facilitated NLTP funding decisions at Waka Kotahi on matters like the use of operational noise walls; surfacing using Epoxy Modified Open Graded Porous Asphalt (EMOGPA); the addition of 13 kilometers of shared paths (including clip-on pedestrian path structures) and supported a major decision to move to a Deep Lift Asphaltic pavement.
Jamie has also directed activities outside of the main design/build contract, including addressing access at the former Ōtaki Milk Station (a heritage building, now a wedding venue), the preservation of the Ōtaki Railway Station and the relocation and restoration of the former Te Horo Station and Smíšek Kilns site. "I facilitated decisions around the moving and rebuilding of the Smíšek kilns, which eventually saw preservation work done through Fletcher Construction by a team of artisan brickies and kiln builders," he said. You can watch a short video about this work here.
Jamie is still involved in this careful restoration effort as the balance of the former kilns site is re-established. He is liaising with Waka Kotahi's property team and Heritage New Zealand, who have applied to make the site a Category 1 Heritage site ("places of special or outstanding historical or cultural heritage significance or value"). He is also liaising with a local pottery trust that wishes to lease the site and hopes to eventually acquire and operate it as a teaching facility for ceramic arts.
As the project neared completion late in 2022, Jamie was involved in operational readiness preparations for Waka Kotahi, including the writing of the network 'ConOps' plans for the Waka Kotahi network operations team, and as a member of the opening monitoring team. "The night before we opened, we had a nice sunset as final inspections were being wrapped up. The following morning dawned bright and fine and the traffic switchovers from the old highway to the new expressway all went flawlessly, despite the heavy traffic leaving Wellington for the Christmas holidays.
Jamie says, "Waka Kotahi has had a lot of positive feedback on this project and many happy customers have commented online since the opening on the 23rd of December 2022," as this NZ Herald article attests.
"I am currently working on the analysis of the post opening traffic effects on the network and getting shared paths, informational signage and heritage works finished," he says, "It's been a real pleasure to see this project through. I'll be here for a little while yet supporting the delivery of the remaining infrastructure for Waka Kotahi and the public."