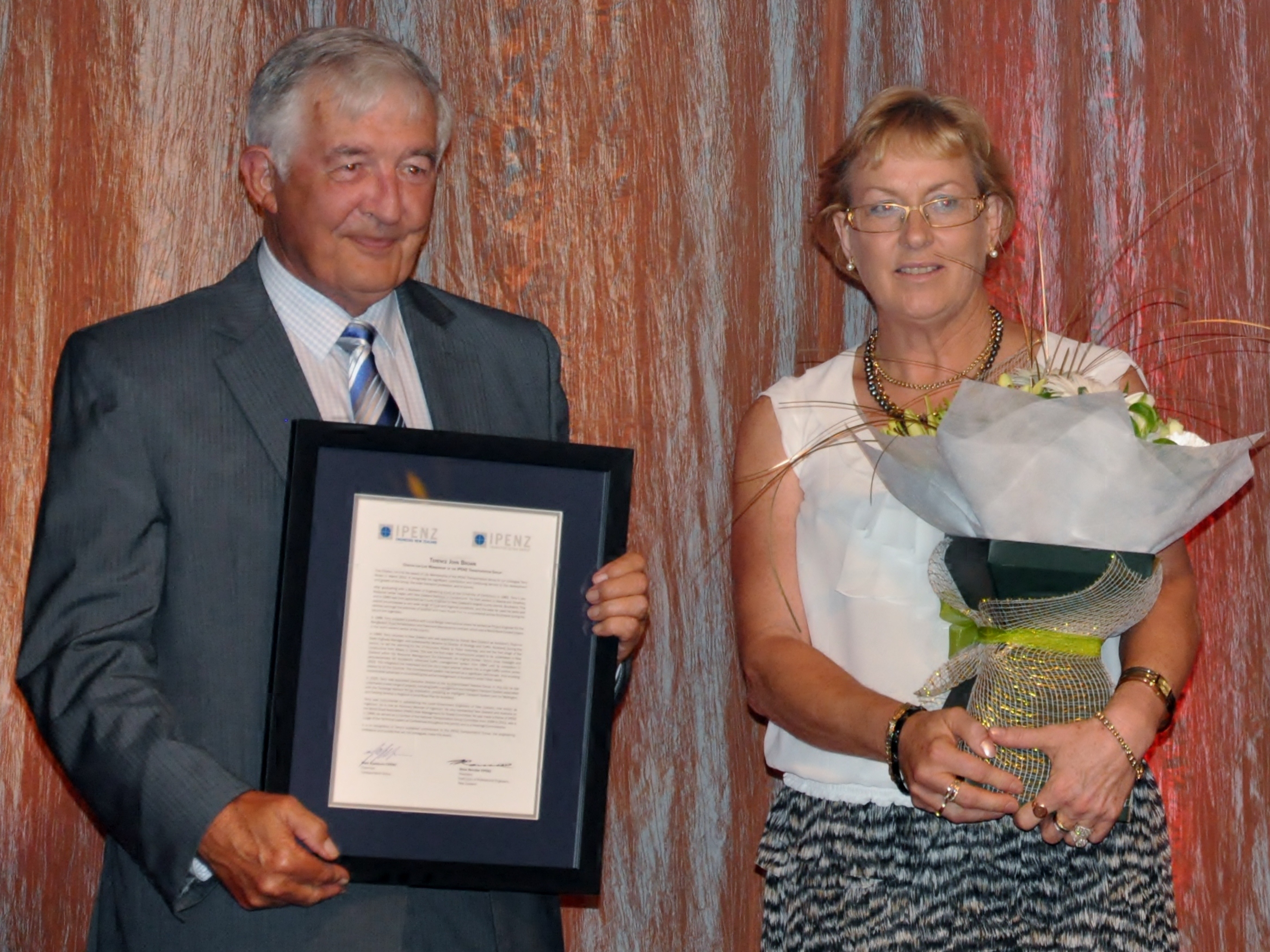 At the recent IPENZ Transportation Group conference, Resolve Group's Terry Brown was awarded Life Membership in recognition of his significant contribution, and continuing service, to the development and growth of the IPENZ Group, the wider transport profession, and to society.
Terry graduated with a Bachelor of Engineering (Civil) from the University of Canterbury in 1963, and went on to be appointed County Engineer to New Zealand's largest county, Southland, in 1980. This district encompasses a wide range of local and regional conditions, and Terry's skill and competence in dealing with the extremes of weather he encountered during his tenure are legendary.
In 1988, Terry accepted a position as Project Engineer with Louis Berger International where he worked for the Bangladesh Road Rehabilitation and Pavement Maintenance contract, a World Bank funded project.
In 1990, having returned home, Terry was appointed by Transit New Zealand as Auckland's Regional State Highway Manager, and subsequently became its Director of Strategy and Traffic, Auckland. During this period, he led the planning for the 27-kilometre Albany to Puhoi motorway, and the first stage of the construction, from Albany to Orewa. This was the first major infrastructural project to be undertaken within the Resource Management Act framework.
Terry then led the planning and implementation of Auckland's advanced traffic management system from 1994 until its completion in 2003. This integrated the motorways and the city's major arterial network into a single traffic control centre, shared by all the Councils. The commissioned system has served as a significant benchmark, enabling considerable advances in co-ordinating the active management of Auckland's wider travel needs.
In 2005, Terry was appointed Executive Director of Resolve Group. In this role he has undertaken a wide range of projects, including traffic management and an Intelligent Transport System associated with the Tauranga Harbour Bridge duplication, preparing an Intelligent Transport System (ITS) plan for Wellington, and helping develop a Regional Arterial Road Plan for Auckland.
Terry was made a Fellow of IPENZ in 1998 and is an Honorary Member of (previously known as the Local Government Engineers of New Zealand), which he was instrumental in establishing. He represented New Zealand and Australia on the World Road Association (PIARC) Risk Management for Roads Committee, served as a member of the National Transportation Group Committee from 2006 to 2011, was a Judge of technical papers at conferences throughout this period, and is an RMA Hearings Commissioner.
We at Resolve Group are immensely proud to count Terry Brown amongst our colleagues and are pleased to see his talents and commitment recognised by others in the profession.