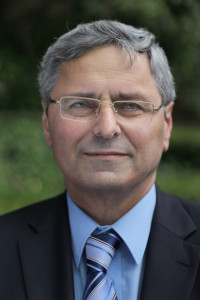 It is with great sadness that the staff at Resolve Group farewell Principal Consultant and member of Resolve's Senior Management Team, Garson Bell, who passed away suddenly of a heart attack on February 12, 2014.
Garson was with Resolve Group almost from the day of its inception in 2002, but has been a colleague of some staff members going back as many as 35 years. These long term relationships helped to form the warm, loyal, family friendly environment that became an ingrained part of the Resolve Group company culture and is one of the major reasons he will be so sorely missed.
As we mourn the loss of this intelligent, creative, humorous man, stories of him have been circulating round the office, and a few key traits keep coming to the fore – his strong work ethic, which often saw him lugging bags of files home; his generally good nature that could swerve off into grumpiness if his standards weren't met; his willingness to act as a mentor, official or otherwise, to any number of young engineers; his immense pride in his work and his great fondness for his family, his wife Shirley and his daughters Jorja, Katrina and Natasha.
Over his 38 year career, Garson made significant impacts on the infrastructure of Auckland. Two projects he himself was particularly proud of were Te Wero lifting bridge in the viaduct basin, and the review of Auckland's motorway signage.
Te Wero bridge on Auckland's viaduct harbour was completed in 2011, the first of 9 Rugby World Cup 2011 legacy projects to be delivered. The project began with Garson running a design competition for an iconic bridge linking the city with Wynyard Quarter. The high calibre of the designs submitted was, for Garson, a pleasing vision of what Auckland could be. Needless to say, he was extremely disappointed when budgetary constraints forced the client to select a temporary solution.
However, working closely with the designer, Garson ensured that the 'temporary' solution became an iconic element of Auckland's inner city scape, and ensured the design made provision for later upgrading of the project to a bridge capable of supporting traffic as well as pedestrians.
Garson's work brought about the implementation of 12 significant innovations to signage across Auckland's motorways and made him the national expert in the field, ensuring he became a major contributor to signage standards throughout New Zealand. These standards are still in use to this day.
Everyone at Resolve Group feels honoured to have worked with Garson, to have benefited from his generosity as a mentor, his rigorous, standard-setting work ethic, his intelligence, his often wicked sense of humour, and his unflagging passion for his work.
For those of you requiring urgent information on work in progress with Garson, please contact Adele Taylor in the first instance: 300 8524.